Thanks to the wonders of the internet, it is possible for people to communicate quickly and easily with others around the world. With this ability, the Cyber Prayer Room has been created to give help to those in need, in the form of prayer.
I am not a member of the clergy. I'm just someone who wishes to help people in the only way that I am able. My religious affiliation is Roman Catholic, but prayer requests are welcome from one and all, no matter what their faith.
If you would like to be prayed for or have a request that prayers be said for someone else, click the Submit Prayer button further down this page.
I give my word that "each and every" intention will be prayed for individually on a nightly basis.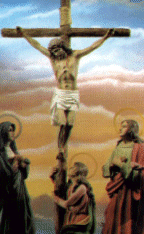 Let us therefore draw near with confidence to the throne of grace, that we may receive mercy and may find grace to help in time of need.
HEBREWS 4:16

What Can You Expect From Prayer?
Prayer is not like a genies lamp with which you make a wish and it is automatically granted. When we present our needs to God, sometimes our prayers are not answered in ways that we might expect.
For Example:
A prayer need might be answered just as we had hoped, but it might take longer than we had anticipated. God works on a different time schedule than we do. He has the perfect vision to know when events should occur.

A prayer need might be answered, but in a way we weren't expecting. God knows what is best for us, and sometimes we pray for things that God knows is not in our best interest. If we have faith, we will begin to see how God's way is better in the long run than what we had originally hoped for in the beginning.

A prayer need (such as asking that a sick loved-one be spared from death) might not seem to be answered at all. God's ways are not our own, and every human being has an appointed time to die. None of us will be taken until that time has come. If someone we love does die, it is painfull for us who remain. Psychologicaly, the grieving process is important, but we must remember that those who are gone are suffering no more and are at peace with God. Unfortunatly we live in a society that tends to look at death as morbid and something to be feared. Death is something that everyone who has ever lived on this Earth must experience. It is only another part of our existence.

Last but not least, we must remember to use prayer as a time to worship God and thank Him for the blessings He has given us.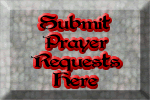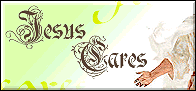 Visitors Since May1,1998
stoddard@webwide.net